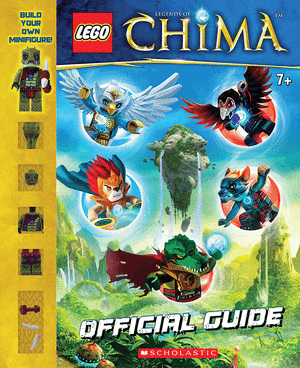 Published by Scholastic Inc., and copyright under LEGO® Group. This is the official published reference of Chima. Provided is a basic outline of the guide without spoilers and direct content. Only use as a reference source to what is available.
The purpose of this page is to provide referenced sources to the individual pages on the wiki.
Content Outline
Welcome to Chima
The Legeng of Chima
What is Chi?
Explains the element
How it's used
Races
The Major Tribes
Major Characters
Vehicles
Indepths of:

Lennox's Lion Attack
Eris's Eagle Intercepter
Eglor's Twin Bike
Equila's Ultra Striker
Gorzan's Gorilla Striker
Gragger's Command Ship
Crawley's Claw Ripper
Worriz Combat Lair
Wakz's Pack Tracker
Razar's Chi Raider
Razcal's Glider
Locations
Weapons
Brief descriptions of:
Laval's Royal Valious Sword
Cragger's Vengoualize Spear
Razar's Thundax Chi Spear
Worriz's Double-fanged Chi Staff, Maulus
Furty's Chi Whipper
Gorzan's Cudellor Fist Hammer
Skinnet's Stynkjahak Spear
Featured Story: "Joyride"
Laval and Eris must to stop Cragger from using the Chi's powers
Explore Chima Interactively
Explore Legends of Chima online