Legends of Chima 4D Movie Xperience is an attraction at LEGOLAND Discovery Center Tokyo, starting March 20, 2013.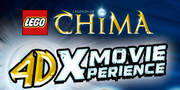 It involves Plovar, Furty, Skinnet, G'Loona and a Wolf trying to get the Chi orbs away from Cragger and his allies after Laval stops him from stealing them.
Story
Plovar takes Furty, Skinnet, G'Loona and a Wolf on a tour around Chima on his plane, but it takes a nasty turn when they fall down the Mount Cavora waterfalls and accidentally take some Chi orbs Cragger was attempting to steal. In the Croc Swamp Hideout, they are attacked and G'Loona sees the bag and realizes why the Crocodile Tribe is chasing them. They get on some fellow balloons and head to the Fangs, where they are attacked and almost fall into the hole Crominus and Crunket fell in. Laval then arrives on his Speedorz and is trapped by rocks, but G'Loona throws him an orb of Chi and he rescues them as the Lion Tribe arrive and Lagravis takes the Chi back to the Lion Chi Temple. Skinnet then lets out his skunk fumes and everyone flees.
Description
Experience the power of CHI in our new 4D movie experience available from 20th March 2013!
Join the chase through Chima as Laval the Lion Prince meets Cragger the Crocodile in the battle of CHI. Feel the full force of CHI here at LEGOLAND® Discovery Center Tokyo.
Sources