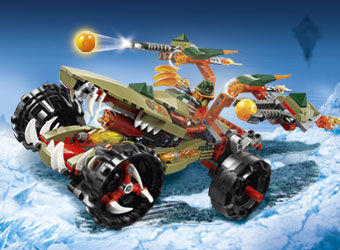 The Fire Striker is a new tank given by Crominus to Cragger in the Fire VS Ice arc.
See Also
For the LEGO set, see 70135 Cragger's Fire Striker.
Bio
The Crocodile Tribe isn't known for its speedy vehicles, but Cragger isn't your average Croc prince. In the cockpit of his new Fire Striker, he can blast a blazing path across swamp, jungle, and frozen tundra – and when the battle calls for strength over speed, an infusion of Fire CHI converts the racer to its toothy attack mode with a pair of powerful flame launchers that prove its burn is as tough as its bite.