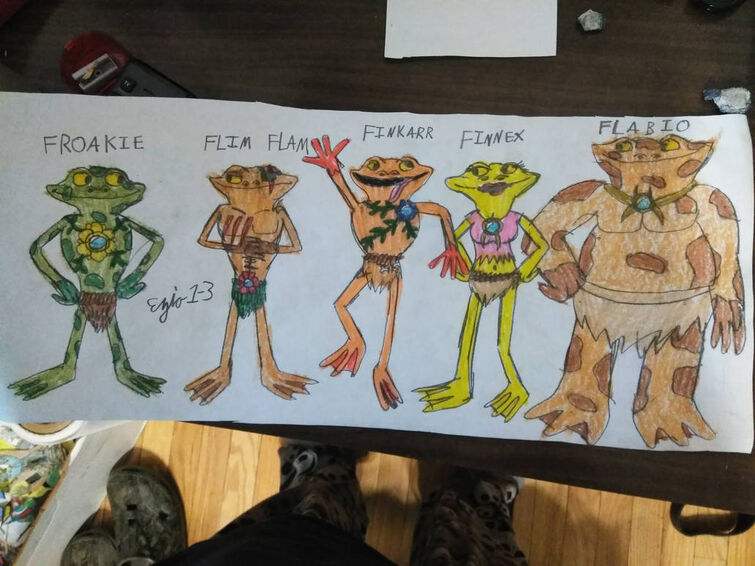 I've had this idea since the start of LEgends of Chima, and I never drew it out, so better late than never.
The Frog tribe is a tribe of animals that share the swamplands with the Crocodiles, but are more peaceful and friendly. They are on good terms with both the Crocodiles and the Lions, and when the two tribes started fighting at the start of the series, they kept trying to make peace. Because they were on good terms with both the Crocs and Lions, their weapons were a mix of both tribes. Their vehicles included boats, all-terrain buggies and tanks, and Frog Mechs. They were good swimmers and climbers, and their tongues could be used as great weapons and for grabbing. They all speak with Cajun accents. They have a nasty habit of eating bugs that fly by with their tongues, which grosses other tribes out. There is a Frog Legend Beast, by the way.
Froakie is the representative of the tribe, and as such, is the closest thing they have to a leader. He is good friends with Laval and Cragger, and has been trying to keep their friendship stable since the start of the series. He doesn't like Crooler. He is brave and resourceful, and very smart, too. He is also creative both in Battle and of the Speedor Track.
Flim Flam is the best warrior the Frogs have, scarred in several places due to picking fights. Unlike the peaceful other frogs, he is very tempermental, and likes to pick fights with just about anyone: Ravens, Wolves, Crocodiles, and he has the fighting skills to back up his claims. He is a no-nosense frog with a grim outlook on life, and believes that there will always be someone to fight. Not many other frogs like working with him due to his bad attitude.
Finkarr is a zany and crazed frog who is always playing jokes and having fun. He hangs out with the Gorillas and likes pranking others. He is bouncy and full of energy.
Finnex: Froakie's love interest, she is the calm, level-headed diplomat of the Frogs, and has quite the way of talking out through problems and getting others to agree on things. She's no slouch in a fight, either, and wishes everyone would just get along.
Flabio: Froakie's bungling big brother, he is the largest Frog in the tribe, and in the LEgo sets is a Big Fig. Flabio is easygoing and peaceful, but also very strong. If the frogs ever need someone to bulldoze through obstacles and enemies, he's the guy for the job, though he'd rather hug it out. His peace-loving attitude makes him seek company among the Gorillas and Bears.